EMERALDS OF THE ALHAMBRA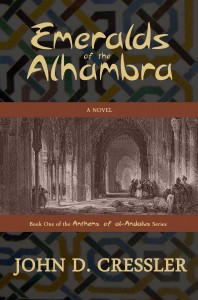 Emeralds of the Alhambra, by John D. Cressler
Sunbury Press, Mechanicsburg, PA, 444 pages, 2013.
Price: $19.95 (paperback), $8.99 (eBook)
Trade Paperback ISBN: 978-1-62006-197-8 / Amazon ISBN: 162006197X
Mobipocket format (Kindle) ISBN: 978-1- 62006-198-5      

Description of Emeralds of the Alhambra
How could we forget? Our world is stained with the blood of religious conflict and fanaticism, yet we managed to forget that for hundreds of years in medieval Spain, Christians, Muslims and Jews lived together in relative peace, sharing languages and customs, whispering words of love across religious boundaries, embracing a level of mutual acceptance and respect unimaginable today. Together, they launched one of the great intellectual and cultural flowerings of history. Our world aches for a future graced with tolerance and peace. Let us join together in reawakening the glory of medieval Muslim Spain, of al-Andalus.
Emeralds of the Alhambra is a love story set in the resplendent Alhambra Palace in Granada, Spain, during the Castilian Civil War (1367-1369), a time when Muslims took up their swords to fight alongside Christians. Here is the story of William Chandon, a Christian knight, and the Sufi Muslim princess, Layla al-Khatib. As Chandon's influence at court grows, he becomes trapped between his forbidden love for Layla and his Christian heritage, the demands of chivalry and political expediency. Chandon and Layla must make choices between love and honor, war and peace, life and death, choices which ultimately will seal Granada's fate as the last surviving stronghold of Muslim Spain.
Emeralds of the Alhambra is the first book in the Anthems of al-Andalus series.
Newsworthy!
Emeralds of the Alhambra was named a 2013 Foreword Reviews INDIEFAB Finalist for Historical Fiction. INDIEFAB AWARDS
Emeralds Tops August Fiction Sales at Sunbury Press, 3rd overall:  Press Release 9-10-13
Cressler was a featured speaker in the Atlanta Writers' Showcase at the 2013 Decatur Book Festival, the largest independent book festival in the USA. 
Cressler appeared on WAIB-TV's Interfaith Perspectives, hosted by Imam Plemon El-Amin, and can be viewed on the Videos page.
The Emeralds Virtual Book Tour launched on June 15. Stops on the tour and their permalinks are under the Events page.
Emeralds Tops June Sales for Sunbury Press:  Press Release 7-7-13
Sunbury Press Officially Releases Emeralds: Press Release 6-5-13
Calling All Book Groups:
Emeralds is a great read for book groups! Discussion questions are included in the back matter. In addition, I would be delighted to make an appearance at groups using the book, either in person, via skype, or via phone.
Praise for Emeralds of the Alhambra
"A deeply moving and enlightening novel on the co-existence of religions."    ─Shirin Ebadi, Nobel Peace Prize Laureate
"…seamlessly weaves history, religion, passion, loyalty and romance into a compelling, beautifully-written, narrative which brings [the reader] into the richness, majesty and complexities of this different, yet alluring world…"   ─Rabbi Rachael M. Bregman, Temple Beth Tefiloh and Rabbis Without Borders
"… More than ever, we need stories like Cressler tells, confirming the transformative power of relationships. Cressler illuminates the beauty and meaning found in Islam, Christianity, and Judaism, reviving an important shared history…"   ─Eboo Patel, Founder and President, Interfaith Youth Core
"…Cressler has woven an imaginative and intricately persuasive story…[a] vivid and gorgeous world of romance, intrigue, murder and negotiations between multiple religions in medieval Spain…[a] story of love between human beings, for God, and for the creation so graciously bestowed on us. A thoroughly gripping and engaging first novel."   ─Professor Susan Abraham, Harvard Divinity School
   FOR MORE REVIEWS PLEASE SCROLL DOWN
Emeralds of the Alhambra Book Trailer
"…A work of honesty and sensitivity that renders in depth, and with painterly detail, the living contours of a great civilization that the modern world needs to re-discover…A moving story of love across boundaries, set at a critical point in history…with unmatched and vivid descriptions of place, lifestyle, manners and practices…"            ─Salma Khadra Jayyusi, poet, writer and literary historian.  Founder and Director of EAST-WEST NEXUS/PROTA for the dissemination in English of Arabic cultural achievements.
 "[Cressler's] compelling characters and vivid imagery bring this tale of intrigue and barrier-breaking relationships to life in a way that even a visit to the Alhambra did not…[Celebrates] the power of love to forge human hearts into timeless bonds."  ─Cathy Devlin Crosby, Cofounder of Neshama Interfaith Center
"A captivating love story that speaks deeply to the purest and most humane places of the heart. A highly enjoyable and enthusing novel."   ─Aytekin Erol, Lawyer Society of Cinematographic Work Creators, Istanbul
 "Emeralds of the Alhambra has it all – mystery, intrigue, duels and interfaith romance…Cressler artfully draws us into the fascinating lives of the novel's main characters with vivid prose. We experience the blows and blood of the fierce battles between enemies, as well as the luminosity and laughter of spell-bound lovers…Transports readers back to medieval Spain and offers them a peek behind La Convivencia and all the rivalry, romance and complex relationships that existed between Jews, Christians and Muslims."   ─Tayyibah Taylor, Publisher and Editor-in-Chief of Azizah Magazine
 "…A story of passionate love…And the spiritual quest for God…Cressler adds a most important element to the mix by weaving in the "problem" of how to reconcile interfaith concerns, [making] this wonderful novel especially prescient for the third millennium."  ─Marian Monahan, Cofounder of Neshama Interfaith Center
"History, conquest, and a captivating love story…Dares us to engage in conversations with those of different faiths. This is more than a novel, it is a resource."           ─Angela Harrington Rice, Senior Executive Producer, Atlanta Interfaith Broadcasters
"[Cressler] has a finely-tuned, sensuous capability to drink in and pass on exquisite sights, smells, colors, sounds and tastes…[At] the deepest level…Cressler helps [the reader] understand the…overwhelmingly powerful force that love truly is…and the role love plays in the experience of the Divine."  ─Father Gene Barrette, Missionaries of Our Lady of La Salette
"…The novel's rich and descriptive narrative serves as a call from the past, challenging us to realize that more is possible than we dare imagine. In its pages are found nearly everything that makes us human…"   ─Professor John B. Switzer, Spring Hill College,  Cofounder and Director of the Muslim, Jewish, Christian Trialogue
            Reader Reviews 
"Cressler weaves a beautiful love story between a man and woman who overcome the boundaries of language, religion and dogmas to form a perfect union, and which epitomizes Andalusian civilization. I lost myself in this engulfing story and fell in love with [Cressler's] own humanity and sense of tolerance. We need to come together, as he writes so beautifully in the Emeralds of the Alhambra, as peoples of the world, to endure times that are becoming increasingly violent and fanatical."                           ─Acar Nazli
 "Seeped in a rich and sensual history, this is a tale of love and faith that transcends time…Cressler reminds us of the transformative power of a hope and courage rooted in love, a reminder that is essential as we face the seemingly insurmountable conflicts of today.   ─Anita Hall
 "…An eye-opening novel and a beautiful story full of daring, intrigue [and] love…It is a story you will not find anywhere else, and it must not be missed!"                     ─Robert Wilhelm
 "…The riveting story line of battles, political and religious skullduggery, and the star-crossed love of William Chandon…and Layla al-Khatib…makes this…a real page-turner!"  ─Roger A. Meyer, MD
"…Transported me back to [the] 14th century, where the landscape…looked different…but the problems of humanity were the same ─ How do we live together in peace?…[Cressler's] painstaking research and his care for detail are evident. I would not be surprised if someone decides to make an epic movie based on Emeralds of the Alhambra."  ─Kemal Korucu
 "With beauty and ardency, Emeralds captures the triumph of love over religious and social conventions, progress over history, and warmth over the chilling callousness of war."    ─Sylvia Hall