SHADOWS IN THE SHINING CITY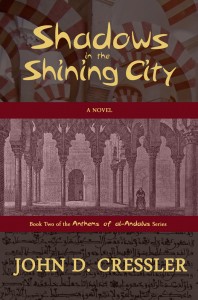 Shadows in the Shining City, by John D. Cressler
Sunbury Press, Mechanicsburg, PA, 606 pages, 2014.
Price: $24.95 (paperback), $8.99 (eBook)
Trade Paperback ISBN: 978-1-62006-345-3 / Amazon ISBN: 162006345X
Mobipocket format (Kindle) ISBN: 978-1- 62006-346-2     

Description of Shadows in the Shining City
The Golden Age of Moorish Spain was during the 10th century, a time when the benevolent Syrian Arab Caliphs ruled Iberia from Córdoba, the site of the iconic Great Mosque and home to the Royal Library, one of the largest collections of ancient books ever assembled. 10th century Córdoba was the richest, most populous, and most cultured city in the western world. Under the tolerant Muslim Caliphs, the pinnacle of convivencia was attained, that unique period of Spanish history when Muslims, Jews and Christians lived together in relative harmony and peace. Multicultural Córdoba was an enlightened city that treasured its books, celebrated art and literature, advanced science and medicine, and its myriad accomplishments were envied by both the west and the east alike.
Shadows in the Shining City is a prequel to Emeralds of the Alhambra, and the second book in the Anthems of al-Andalus Series. Shadows tells the story of the forbidden love between Rayhana Abi Amir, a Muslim princess of the Royal Court, and Zafir Saffar, a freed slave. Young love blossoms in 10th century Madinat al-Zahra, the Shining City, the Caliph's magnificent Royal Palace located just outside of Córdoba. Their love story is set against the backdrop of the epic rise to power of Rayhana's ruthless father, a man history will come to both celebrate and revile for the role he plays in the collapse of Moorish Spain.
Newsworthy!
Shadows in the Shining City was named a FINALIST for the 2014 Eric Hoffer Book Award. Eric Hoffer Book Award
Shadows in the Shining City was named a FINALIST for the 2014 Montaigne Medal. Montaigne Medal
"What Medieval Muslim Spain Can Teach Us About Achieving Peace in Our Broken World." Presentation, shared discussion, reading, and signing for Shadows in the Shining City. Hosted by Neshama Interfaith Center on Sunday, November 23, 2014 at 7:00-9:30 pm, at the Istanbul Cultural Center, 591 N. Main Street, Alpharetta, GA 30009. Free and open to the public.
Book Launch for Shadows in the Shining City! Presentation, reading, discussion, signing, and party, July 22, 2014 in Technology Square, Midtown Atlanta, 7:00 pm. Free.
Shadows Tops June Sales for Sunbury Press:  Press Release 7-9-14
Cressler was a featured author in the 2014 Decatur Book Festival, the largest independent book festival in the USA. Presentation, reading, discussion, and signing on Saturday, August 30, 2014. Free. Marriott Hotel, Conference Ballroom C at 3:00 pm.
For upcoming appearances and other book events, visit the EVENTS page.
Calling All Book Groups:
Shadows is a great read for book groups! Discussion questions are included in the back matter. In addition, I would be delighted to make an appearance at groups using the book, either in person, via skype, or via phone.
Praise for Shadows in the Shining City
"An inspiring and deeply moving novel on both the nature of love and the many beautiful possibilities brought to life when religions learn to coexist." —Shirin Ebadi, Nobel Peace Prize Laureate
"A mesmerizing love story … filled with vivid historical descriptions of treachery and strategies in politics, religion, power, and love during the Golden Age of Moorish Spain." —Valerie Jackson, In Conversation (Between the Lines), National Public Radio
"This is the second novel in Cressler's Anthems of al-Andalus Series, where the legacy of the Arab/Islamic civilization in medieval Spain, with its refinements, its enduring tolerance, and its esthetic dynamism is celebrated. A novel about love, political strife, and cultural conflicts, it is written in a rich and shimmering style carrying an implicit message on the value of recognizing the achievements of the "other," and asserting the fact that there is no fixed center for human creativity and progress." —Salma Khadra Jayyusi, poet, writer, and literary historian. Founder and Director of EAST-WEST NEXUS/PROTA for the Dissemination in English of Arabic cultural achievements
"An enthralling narrative to a shocking history. In this novel of 10th century Spain during the critical transition in the Muslim world from a progressive leader to a cruel megalomaniac, the author brings the reader straight into the landscape, the majesty and the struggles for power which cast the shadows upon al-Zahra, the Shining City. Cressler brilliantly weaves together fact and fiction, passion and intrigue, the throes of love, and the violence of war. With great attention to detail, he artfully unfolds the drama of a young and forbidden love, exquisitely keeping us rapt in the story, wondering in each moment, what will happen next?" —Rabbi Rachael M. Bregman, Temple Beth Tefilloh
"Another tour de force! Cressler submerges us in a luxurious narrative evoking the loves, lives, intrigue, and history of 10th century Córdoba, a time of religious and political amity among Muslims, Jews, and Christians. Our master storyteller provides a cautionary tale of how human desire can corrupt the power of love through the love of power. We cheer for Rayhana and Zafir while we witness the horror of books burning on the pyre of one man's insane desire to stem the love of knowledge. We rejoice in the many triumphs of al-Andalus, yet despair at lessons not yet learned about how human beings may live and love together. Shadows in the Shining City is a lovely, moving, and inspiring story of how it might have been. We believe!" —Professor Susan Abraham, Loyola Marymount University
   FOR MORE REVIEWS PLEASE SCROLL DOWN
"Cressler is a master of meticulously researched detail. His intricately woven characters plumb the depths of love and fear, cunning treachery and wisdom, immersing the reader into the heart of 10th century al-Andalus as it balances on the edge of a cosmic shift, with repercussions that continue to reverberate today. What better way to learn history than through the eyes of lovers both young and seasoned: lovers of books and scientific discovery, of beauty and of harmony among diverse peoples, and ultimately, human love that defies all obstacles to proclaim, 'I believe'!" —Cathy Devlin Crosby,Cofounder of Neshama Interfaith Center
"Cressler is a master of rich description, pulling the reader into each scene. An incredible love story supported and sustained by the remarkable coexistence of religions that characterized that magical era. (We) are left yearning for a return to

convivencia

." 

—Father Bruce Maivelett, S.J., Jesuit Superior, Ignatius House Retreat Center 
"Cressler's suspenseful novel, set at a decisive moment in Spain's pre-modern history, challenges our all too comfortable prejudices about medieval culture as the eternal dark "other," an allegedly primitive and less cultured period we have long left behind. Under the deceptive garment of an engaging love story, Cressler reveals the human continuities between the medieval past and the modern present, confronts twenty-first century religious intolerance with the decline of a relatively peaceful convivencia among tenth-century Spanish Muslims, Christians, and Jews, and celebrates the powerful role of learning and intellectual curiosity for interfaith dialogue." —Professor Richard Utz, Chair, School of Literature, Media and Communication, Georgia Tech,  and President, International Society for the Study of Medievalism
"Cressler has done it again! He has woven an intricate and fascinating web in 10th century Córdoba from the threads of court intrigue, war, lust for power, passion, and most of all, love. The author reminds us that the most powerful force available has always been, and will always be, love; and that people from different cultures and religions can not only live together in peace, but also thrive and flourish even more profoundly in diversity. Cressler helps us all to believe that these highest values are still attainable and worth fighting for. A great read with a heartfelt message for today's world!" —Marian Monahan,Cofounder of Neshama Interfaith Center
"Cressler is a vivid writer who creates a breathtaking adventure that is both intensely entertaining and informative. The reader is immersed in the cultural, religious, and scientific currents of one of the most remarkable periods of Spanish history. I look forward to the next one!" —Father Thomas Kenny, S.J., Chaplain and Teacher, Atlanta Cristo Rey Jesuit High School
Shadows in the Shining City, Book Two of the Anthems of al-Andalus Series, by John D. Cressler, was published by Sunbury Press.